What will my word search look like when I print it?
Something like this: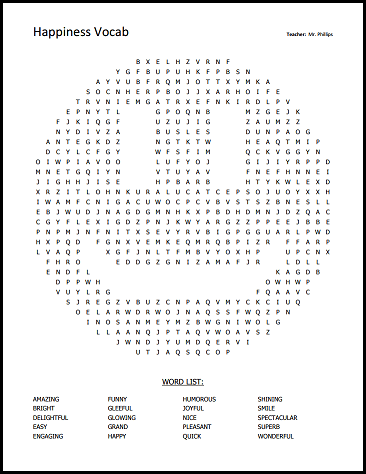 Why choose My Word Search?
My Word Search is the best word search maker online:
Fully customizable word search maker
Easy for first-time creators
Save-as-you-go editing
Access your word searches from any computer
Ideal for teachers
Response from a real human if anything goes wrong (which we can afford because it rarely does)
What does it cost?
A subscription to make unlimited word searches costs $5/month, or $4.25/month when billed annually. You can try it free for 30 days before deciding if you want to subscribe. Click the blue "Choose Plan" button on the left when you are ready. Individual word searches can also be purchased for special events.
Do you have a money-back guarantee?
Yes. If you are not satisfied for any reason, you can have a full refund.
How do I print?
Click the blue button next to the big "3" on the left when you are ready. You will be prompted to create an account if you haven't already, and then see payment options. Once paid, that button will turn into a 'Publish' button that will put your word search in a format that can be printed or solved online.
Can my word search be solved and submitted online?
Yes. After publishing your puzzle, you can choose to accept online submissions for it. Teachers use this to give word searches to students online.
Do you offer crossword puzzles?
Check out the
Crossword Puzzle Maker
at our sister site, crosswords.brightsprout.com. You can also buy a joint subscription to both sites for a 20% discount when you sign up for a plan.
Do you offer other worksheets?
Yes! Check out our
Worksheet Maker
to make unlimited, customizable worksheets with a variety of specialized activities, such as fill in the blank, word scramble, matching, multiple choice, and more. You can also buy a joint subscription to My Crossword Maker, My Word Search, My Worksheet Maker, My Bingo Maker, and My Flashcard Maker for a 50% discount when you sign up for a Premium plan.
Do you offer other bingo cards?
Absolutely! Check out our
Bingo Maker
to create custom bingo sets for the classroom, parties, special events like birthdays or showers, or just for fun. You even get a discount when you try a Premium, all-site plan.
Do you offer other flashcards?
Yes, we do! Our
Flashcard Maker
lets you create custom flashcards for the classroom or for fun. You can adjust the size, make them double-sided, create 3x5 notecards, print flashcard blanks, and more. Get a discount when you try an all-site plan with unlimited flashcards.
What is BrightSprout?
Since we built the crossword builder in 2012, we've continued to add more and more builders for teachers to create materials for their students. Now, over ten years later, we've added four more builders and felt it was time to get more organized (we all get Folder Fever sometimes).
We've renamed our company BrightSprout to better represent the diverse builders we create and to simplify your experience on our sites.
What to know more? You can
read more about BrightSprout
on our Knowledge Base
How about gifts?
Yes! Check out our
gifts
page to browse crossword and word search themed shirts, hoodies, mugs, and more.
Can I print from a different computer?
Yes. All word searches created with the word search maker are saved to the cloud and accessible from any computer when you log in.
Where are my saved word searches?
When logged in, click on the 'My Puzzles' link in the header to see your word search or create a new word search. Word searches you are working on can be found in the "Word Searches I'm Making" section, and word searches you've completed can be found in the "Word Searches I've Published" section.
Can I give my solvers clues, instead of a word list?
Yes. Click on a word in the word list at the right of your word search to write a clue for it.
What about other languages?
You can create Spanish word searches using the Spanish word search maker and French word searches using the French word search maker. Change your language in the 'Customize' section.
Can I keep my word search private?
Yes. When you finalize your word search, you have the option of adding a password. You can keep this password private or share it only with your designated solvers.
Do I own the rights to my word search?
Yes. My Word Search will never make money from your work.
Any promos for bloggers?
Bloggers get free access to My Word Search. To get blogger access, email Admi
[email protected]
and include a link to your blog for approval.
Can I embed word searches in my website?
Yes. Word searches you create and publish on My Word Search can be embedded and solved on YOUR site. Here are some super-easy instructions to
embed a word search in your site
.
Welcome to your free trial!
{{{ message }}}
If you have any questions, we're here to help! Just drop us a line at [email protected]