Why My Word Search?
We are committed to making word search creation easy and enjoyable. All of the features you would expect are there: full style customization, save-as-you-go puzzle editing, the ability to access your puzzles from any computer, and more. Our interface is uncluttered and easy to use, and we pledge never to show you ads.
What will my puzzle look like?
When printed, something like this: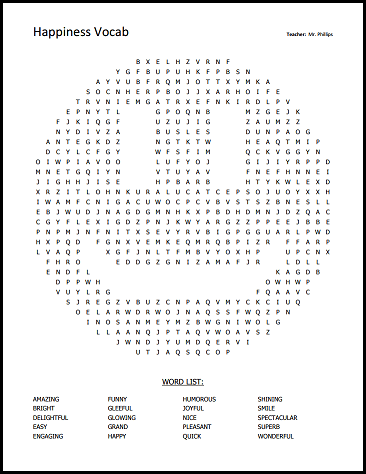 The puzzle that generated this printout is this
happiness vocab word search
. You don't need to do anything special to get the print layout different from the screen layout, that's handled automatically.
What does it cost?
Plans cost a few dollars per month. Click the blue button next to the big "3" on the left of your puzzle when you are ready to choose a plan, or visit your "My Account" page. Individual puzzles can also be purchased for special events.
How do I cancel a subscription?
You can cancel a subscription online by going to your "My Account" page, accessible from the navigation bar at the top of the screen when you are logged in.
Do you offer crossword puzzles?
Check out the
Crossword Puzzle Maker
at our sister site, Crosswords.brightsprout.com. You can also buy a joint subscription to both sites for a 20% discount when you sign up for a plan.
Do you offer worksheets?
Yes! Check out our
Worksheet Maker
to make unlimited, customizable worksheets with a variety of specialized activities, such as fill in the blank, word scramble, matching, multiple choice, and more. You can also buy a joint subscription to My Crossword Maker, My Word Search, My Worksheet Maker, My Bingo Maker, and My Flashcard Maker for a 50% discount when you sign up for a Premium plan.
Do you offer bingo cards?
Absolutely! Check out our
Bingo Maker
to create custom bingo sets for the classroom, parties, special events like birthdays or showers, or just for fun. You even get a discount when you try a Premium, all-site plan.
Do you offer flashcards?
Yes, we do! Our
Flashcard Maker
lets you create custom flashcards for the classroom or for fun. You can adjust the size, make them double-sided, create 3x5 notecards, print flashcard blanks, and more. Get a discount when you try an all-site plan with unlimited flashcards.
What is BrightSprout?
Since we built the crossword builder in 2012, we've continued to add more and more builders for teachers to create materials for their students. Now, over ten years later, we've added four more builders and felt it was time to get more organized (we all get Folder Fever sometimes). We've renamed our company BrightSprout to better represent the diverse builders we create and to simplify your experience on our sites. What to know more? You can
read more about BrightSprout
on our Knowledge Base
How do I print?
Once you have a plan, or have purchased a single puzzle, the button next to the big "3" on the left of your puzzle will allow you to "publish" your puzzle, putting it in a format that can be printed or solved online.
Can I print from a different computer?
Yes. For example, a teacher may create a puzzle on her home computer or iPad and print it the next day from a school computer. All puzzles you create are automatically saved to your account as you work on them, and you can always get to in-progress or completed puzzles on your "My Puzzles" screen when you log into your account. If this teacher is out sick, she can even email the link for her completed puzzle to a substitute and the substitute can print it, without needing to log in or have an account.
Can I save to my computer?
Yes. You are able to save it as a PDF (the icon is next to the print icon). However, most people find it easier to log in and print when needed (the puzzle is saved on your account), or share the puzzle by emailing the link to the puzzle.
Can my word search be solved and submitted online?
Yes. After publishing your puzzle, you can choose to accept online submissions for it. Teachers use this to give word searches to students online, and bloggers use this to run contests for their readers. Each puzzle gets a permanent URL that you will share with anybody you want to solve your puzzle. You will be able to customize what information you collect from them.
Who uses My Word Search?
Teachers:

Word searches are easy to grade, and students love them. Your students are motivated to solve the puzzle, and gain familiarity with the vocabulary and spelling necessary for the answers.

Trainers:

It is important for your class to focus on the material covered, but a long lecture can be boring. Use a word search to keep your class engaged with the subject you want to teach.

Personal:

Creating a word search for someone is a great gift – both fun and meaningful. Great for birthdays, weddings, anniversaries, Mother's Day, Father's Day, Valentine's Day, or "just because".
Do word searches have educational value?
Like any activity, the educational value of word searches stems from the reasoning and purpose behind assigning them. When used well, they can build familiarity with uncommon vocabulary and help ELL and at-risk students gain comfort and motivation with spelling. When used poorly, they can be a waste of instructional time. Check out some of the most interesting uses of
word searches in education
.
Can I make foreign-language word searches?
You can make French or Spanish word searches by changing the language option in the "Customize" section of the screen where you make your word search.
Why do I need an account?
Your account is needed to access your in-progress and completed puzzles, and to ensure you can always publish your puzzles when you're a paid user. Additionally, our save-as-you-go puzzle creation tool relies on saving to your account, so you can resume your puzzle in case of computer issues.
Where are my saved puzzles?
When logged in, click on the 'My Puzzles' link in the header to go to your My Puzzles page. Below the option to create a puzzle, there are sections for your saved puzzles. Puzzles you are working on can be found in the "Word Searches I'm Making" section, and puzzles you've completed can be found in the "Word Searches I've Published" section.
Do you sell gifts?
Yes! Check out our
gifts
page to browse crossword and word search themed shirts, hoodies, mugs, and more.
Do I own the puzzles I make?
Yes. The puzzles you make are 100% yours, and belong to you. They won't be used or sold by My Word Search. For each puzzle you publish, you have the option for it to be publicly visible or password-protected.
Any promos for bloggers?
Bloggers get free access to My Word Search. To get blogger access, email
[email protected]
and include a link to your blog for approval.
Can I embed puzzles in my website?
Yes. Puzzles you create and publish on My Word Search can be embedded and solved on YOUR site. Here are some super-easy instructions to
embed a word search in your site
.
How do I buy in bulk for my school or organization? Are there discounts for group purchases?
If you are making a purchase for more than 5 people, please email
[email protected]
and provide the name of your organization and the number of people for whom you are making a purchase, and we will send you the applicable discount and provide next steps.
Can I buy subscriptions to My Word Search in bulk and resell them?
What are your terms, conditions, and policies?
What if I have an issue?
You can use the gray "Report an Issue" button at the top of every screen. If you're a paying customer, you have a right to be satisfied. And so while many companies make reporting issues difficult, we make it easy. If there's something we could be doing better, we want to know. And if you like My Word Search, we wouldn't mind hearing that, too.